Clopay® Residential Garage Doors in Bend, Oregon
Is it time for a new garage door for your Central Oregon home? You've come to the right place! For more than 20 years, Blankenship Garage Doors has been helping homeowners throughout Central Oregon select a high-quality residential garage door that offers the ideal combination of performance, durability and unmistakable curb appeal.
We're proud to be a Master Authorized Dealer of Clopay® garage doors, "America's Favorite Doors" for more than 50 years. Clopay® products are the only home garage doors that have earned the prestigious Good Housekeeping Seal. Blankenship Garage Doors is your one-stop Central OR headquarters for the complete selection of Clopay® residential garage doors at competitive prices.
Choose From a Variety of Captivating Clopay® Home Garage Door Design Options
We offer fashionable and functional Clopay® residential garage doors in numerous material and design options to meet every need and taste. If you prefer a contemporary look, you'll find an assortment of modern garage door offerings made from hot-dipped galvanized steel that provide a seamless combination of rugged durability with subtle, yet distinct beauty. These steel-panel doors are available with advanced Intellicore® polyurethane for enhanced energy efficiency.
If you're a big fan of wood-look garage doors, we also offer attractive Clopay® faux wood garage doors that replicate the beauty of natural wood, while eliminating concerns about warping or rotting. As with steel doors, you can also choose insulated faux wood garage doors that will help keep your garage warmer in the winter and cooler during the summer. Other options include authentic wood garage doors, and modern garage doors made of aluminum and glass, to name a few.
You Can Also Get a Custom Residential Garage Door From Blankenship Garage Doors
If you're like many of our Central OR customers, you want a custom residential garage door that meets your unique style and functional requirements. Clopay® residential garage doors give you the flexibility to create a made-to-order product that will serve you well for years to come. We recommend taking a few minutes to browse the Clopay® Imagine FlipBook to generate ideas and use the online Door Imagination System to experiment with various customization features and design options.
We'll Handle Your New Garage Door Installation for You
Once you've made your new garage door selection, you can count on us to perform a fast, flawless installation. As a Clopay® Master Authorized Dealer in Central Oregon, we have the expertise to install any type of Clopay® residential garage door. We also guarantee our work, giving you the peace of mind of knowing you'll receive quality service.
Contact Us for Garage Door Installation
Visit Our showroom for a Closer Look at Clopay® Home Garage Doors
A great way to learn more about Clopay® residential garage doors is to see them in person. Our fully stocked showroom enables you to check out the entire Clopay® collection. Our knowledgeable staff can answer your questions and provide expert guidance to help you make an informed buying decision. Contact us to schedule a convenient appointment today!
LiftMaster® Garage Door Openers
Having a high-quality, attractive garage door adorning your home or business won't mean much if you can't open or close it properly! If you have an automated garage door, you depend on the opener for a smooth, seamless operation. A garage door opener is a motorized electrical device that raises or lower the door just by pressing a button or flipping a switch. You need a reliable door opener that can withstand the rigors of daily use.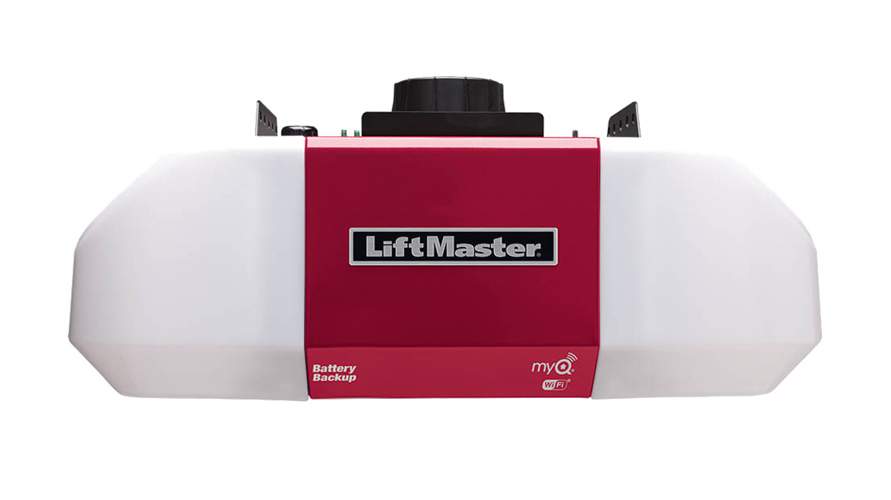 Blankenship Garage Doors: Your LiftMaster® Dealer in Central Oregon
LiftMaster® garage door openers have set the industry standard for quality, safety and innovation for nearly half a century. LiftMaster® openers are the preferred choice of residential and commercial property owners due to their ultra-efficient power management systems, ease of use and unmatched dependability.
Blankenship Garage Doors is proud to be an authorized LiftMaster® dealer that provides a wide assortment of garage door openers and related products throughout Central OR.
We Have the Right LiftMaster® Garage Door Opener for Your Needs and Budget
Blankenship Garage Doors offers a comprehensive selection of LiftMaster® chain and belt-drive door openers featuring revolutionary MyQ technology. This advanced technology enables you to monitor and control your opener via your tablet, smartphone or computer no matter where you are.
Other valuable features include powerful, efficient P3 motors, battery backup to ensure you can operate the opener during power outages and a host of modern safety and security innovations.
LiftMaster® Garage Door Openers Are Compatible With Clopay® Residential Products
Clopay® doors represent the best residential and commercial garage doors on the market. As a Clopay® Master Authorized Dealer, we can pair a Clopay® door with a LiftMaster® garage door opener for maximum performance and durability. LiftMaster® openers are compatible with Clopay® doors, and Clopay® even recommends the top-of-the-line LiftMaster® Elite Series® for use with its garage door products.
We'll Even Take Care of Your Garage Door Opener Installation
Proper installation services is essential for ensuring your garage door opener will function correctly — and won't pose any safety hazards. The Blankenship Garage Doors team consists of experienced garage door technicians who know how to install every LiftMaster® garage door opener product. We also guarantee our installation projects — you'll be able to use your new opener with total confidence.
We Also Provide Timely Maintenance and Repair Service
Even a high-quality LiftMaster® garage door opener requires a "tune-up" now and then to keep it in peak operating condition. As your LiftMaster® dealer in Central OR, we can perform routine maintenance service in Central Oregon. We can also handle minor and more extensive repair tasks — we'll even come to your home or business before or after hours to handle an unexpected garage door opener emergency.
Contact Us for More Information
Learn more about what makes LiftMaster® garage door openers the best choice for your home or commercial establishment. Contact us for additional information and a free quote today.